Directions
To prepare the cure, combine the allspice, anise, coriander, and dried chipotles (do not add chipotles in adobo) in a skillet over medium heat. Toast until fragrant, about 2 minutes. In a saucepan, combine the toasted spices with the chipotles in adobo, if using, and the bay leaves, sugar, salt, panela, vanilla bean, rum, and brandy. Bring to a boil over high heat, stirring to dissolve salt and sugars, and to cook out the alcohol, about 5 minutes. Remove from the heat and add 5–6 ice cubes to cool it down.
When the cure is completely cool, pour it over the salmon in a non–reactive baking dish, cover, and refrigerate for at least 24 hours.
The next day, remove the salmon from the cure and pat dry with paper towels.
Prepare a hot fire in the grill with coals piled up on one side of the grill, or by firing only one side of a gas grill.
Toss a handful of presoaked wood chips onto the fire. Arrange the salmon on the grate opposite the heat source for indirect heat. Cover the grill and smoke the fish for 10–12 minutes, adding wood when necessary (if the smoke diminishes). The fish is done when the flesh flakes easily when pressed lightly with the spatula.
Transfer to serving plates and serve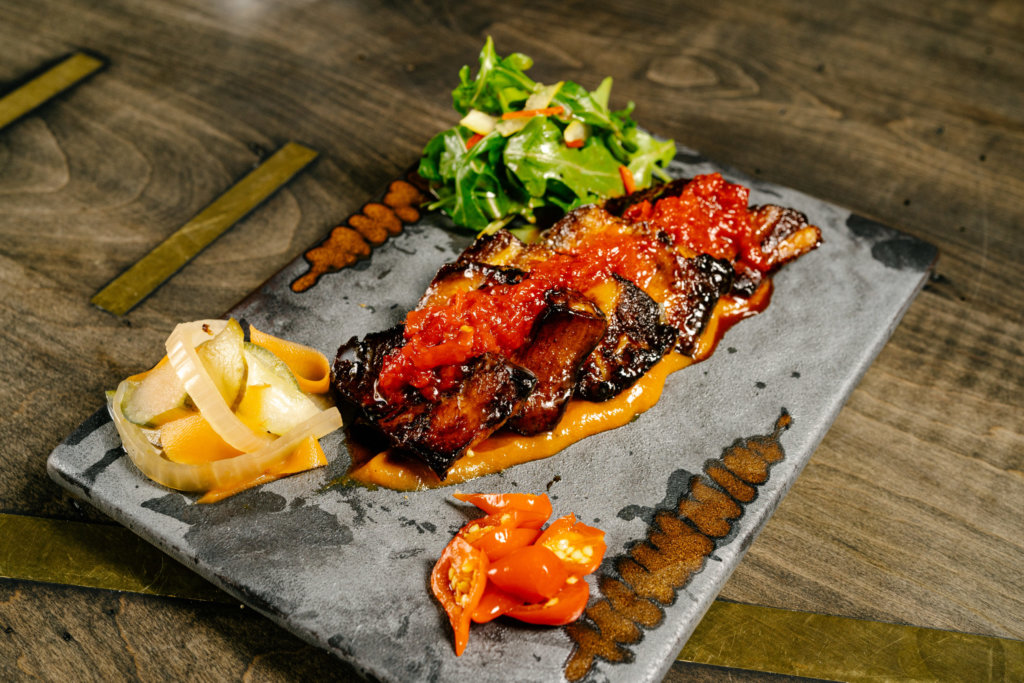 INGREDIENTS
6 allspice berries
6 star anise
2 tablespoons coriander seeds
3 chipotle chiles, dried or in adobo
2 bay leaves
½ cup sugar
¾ cup kosher salt
½ cup grated panela
1 vanilla bean, split lengthwise
1 cup dark rum
5-6 ice cubes
Six 6–ounce salmon fillets