METHOD
Step 1
Place the sugar and water in a saucepan over low heat. Cook, stirring, for 5 minutes or until sugar melts. Set aside to cool slightly.
Step 2
Heat the milk, pouring cream and broken cinnamon stick in a separate saucepan until mixture almost comes to the boil.
Step 3
Meanwhile, whisk the yolks until combined. Whisking constantly, pour the warm cream mixture over the yolks. Pour the mixture into the saucepan with the sugar mixture. Place over medium-low heat. Cook, stirring, for 10 minutes or until mixture is thick enough to coat the back of a spoon. Transfer to a glass bowl. Set aside, stirring occasionally, to cool to room temperature. Cover and place in the fridge for 4 hours or overnight to chill.
Step 4
Remove the cinnamon. Churn in an ice-cream maker for 30 minutes or until thick. While still churning, gradually add the brownie mix into the machine to create a swirled effect. Carefully transfer to a loaf pan or airtight container. Cover and freeze for 4 hours or until firm.
Step 5
Place the chocolate and thickened cream in a heatproof bowl. Microwave on High, stirring every 30 seconds, until melted and smooth. Set aside for 5 minutes to cool slightly. Drizzle over the ice-cream to serve.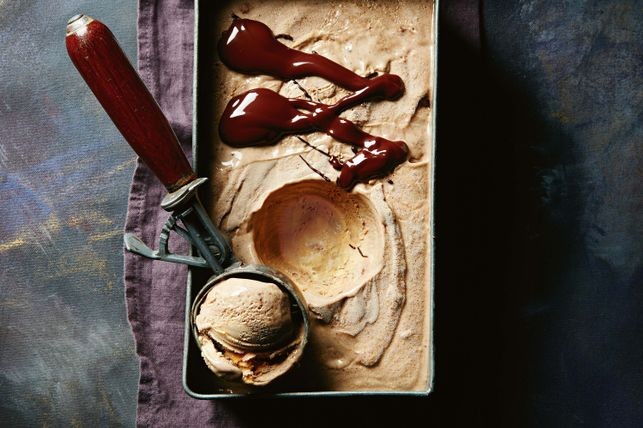 INGREDIENTS
160g (1 cup) panela (rapadura) sugar
2 tablespoons water
375ml (1 1/2 cups) milk
300ml pouring cream
1 cinnamon stick, broken in half
6 egg yolks
150g (1 cup) brownie packet mix
200g Plaistowe Premium Dark Chocolate, finely chopped
125ml (1/2 cup) thickened cream